Beckett - More than just technology
Since 1988, Beckett Gas has been partnering with gas appliance customers to design and manufacture the very best combustion and heat exchange components for their most important product lines.
Our extensive experience and depth of engineering expertise means customer projects can leap ahead of regulations, the market and their competition. Our solutions have been first to market for more than 20 years across multiple segments in the residential and commercial heating and water heating markets.
Our components are made in the USA where we are committed to innovative, lowest cost, zero defect and just-in-time production.
Beckett - More than just technology
INNOVATION AND ETHICAL VALUES
Our extensive experience enables us to produce reliable gas combustion components, within exacting tolerances, for a wide variety of industries. Growing substantially over its history, Beckett Gas has received numerous design and product patents for industry innovations.
Our Ethical Values of Integrity, Excellence and a Profound Respect for the Individual provide the foundation for all we do and are signposts to what we desire to become.

History
Our combustion heritage goes back to our founding family member in oil conversions and combustion in 1937.
Leadership
Leadership comes in many different forms at Beckett Gas.

Philosophy
Our customers know their markets and their product needs. We know combustion and heat exchange.
Beckett - More than just technology
What we do
With patented technology Beckett Gas technology can be found in appliances and products worldwide, including Combustion, Heat Exchange, Controls and other components in:
Residential and commercial forced air central furnaces
Residential and commercial boilers
Residential and commercial water heaters
Residential and commercial gas clothes dryers
Pool heaters and outdoor space heaters
Commercial baking ovens and fryers
Decorative gas fireplace appliances
Manufactured home furnaces
RV heating systems for air and water.
read more
Beckett - More than just technology
Recruiting
Emphasizing an ever-changing, challenging, respectful and rewarding work environment, Beckett Gas fosters a culture of innovation and engineering professionalism. Our organization flexes to meet customer driven strategy requirements. We have built an organization that has never experienced a layoff because its people do what needs to be done to create success and stability. We expect individual growth because our customers demand it and we are committed to providing lifelong opportunities for continuing education and training.
There are entry points at every level of the organization from first time manufacturers, skilled factory and trade people, internships, university co-op programs, management training tracks for college graduates and compensation based on what you can do rather than how long you have been at the company.
Our benefits are unrivaled and we are protected from and not weighed down by the regulatory burdens of the Affordable Care Act.
read more
Beckett - More than just technology
Community
Whether you're from the Northcoast area or are new to the region, there's never been a better time to embrace Northern Ohio. Minutes to our east, Cleveland boasts a thriving cultural and arts scene and is rated by the Wall Street Journal as being one of the lowest cost parts of the country for professionals to live.
The Cleveland Museum of Art is situated in the flourishing University Circle neighborhood, and is surrounded by a host of world-class museums. The renowned Cleveland Orchestra is one of five American orchestras informally referred to as the "Big Five." Musicians are treated as celebrities here, from the history and nostalgia showcased at the Rock & Roll Hall of Fame to the vibrant jazz and R&B vibe pulsing throughout the city. The Playhouse Square theater district hosts top Broadway and other shows and is the country's largest performing arts center outside New York City.
If professional sports is your thing, Cleveland has you covered there too! We are home to the Indians, Browns and Cavaliers; all playing within walking distance of Public Square.
The Cleveland Metroparks, is an extensive system of nature preserves that are an "emerald necklace" encircling the city of Cleveland and enjoyed by greater Clevelanders of all ages. The Cuyahoga Valley National Park, a short drive from urban Cleveland, is a refuge for native plants and wildlife. Walking or riding the Towpath Trail alongside the historic Erie Canal is a must for both residents and visitors alike.
read more
Beckett - More than just technology
News
As an industry leader, there's a lot going on at Beckett Gas. Here is just a sampling of the Beckett opportunities, industry involvement and worldwide connections our people are making every day.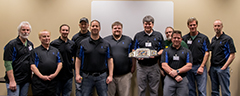 Manufacturing Day at BGI
5/23/2017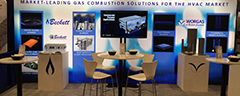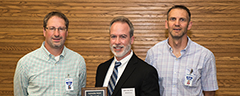 Elite Supplier Award - 2016
6/15/2016
Back
Back to top